About
George Gillas spent nearly 20 years with a direct sales company and played a major role in its growth from six locations in the Philadelphia area to over 200 in the US and Canada. During his time with that company George held numerous upper management roles, traveled extensively throughout the US and Canada training sales managers and top-performing salespeople, and was instrumental in the company's remarkable success.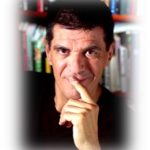 He continued to apply his knowledge of sales training and management in a consulting role in the mid to late 90's and in 1998 dramatically changed careers and locations… He moved to Scottsdale, AZ to become a massage therapist. According to George, "The goal was never to stay a massage therapist; the goal was to gain entry into the exploding field of integrative healthcare."
After building a successful therapeutic bodywork practice, George discovered hypnotherapy and NLP (Neuro Linguistic Programming). He completed his Master Practitioner Certification in hypnotherapy, NLP, and Time Line Therapy™ in 2003 through Advanced Neuro Dynamics, an international leader in NLP training, and once again built a very successful practice in Scottsdale.
He re-certified in all three areas and added Mental Emotional Release Technique® in the summer of 2014. He is a member in good standing of the Association for Integrative Psychology.
George has conducted numerous public and private workshops as well as keynote addresses throughout the Phoenix metropolitan area. He taught for over 10 years at Southwest Institute of Healing Arts and Phoenix Therapeutic Massage College, two nationally accredited colleges in the Phoenix area. Courses he taught included public speaking, seminar & workshop presentation, business practices and ethics, SOAP notes, hypnotherapy, introduction to NLP as well as multiple therapeutic massage protocols.
At a business networking meeting several years ago, the challenge was "to find one word that best describes what you do…" George chose CATALYST: a person or thing that precipitates an event or change.
In late 2018 George completed training and was accepted into Keller Williams Realty MAPS (Mega Achievement Productivity Systems) Coaching program as a MAPS Transformational Coach. This exclusive coaching program is for Keller Williams agents only. His clients include Operating Principals, agents, other MAPS coaches, production coaches, Team Leaders, and more. KW remains as George Gillas, LLC's main client today.
In December 2020, George Re-certified with Kolbe Corp – the only assessment that measures the third part (in addition to the cognitive/thinking and affective/feeling) of your mind – conative mind. Focusing on people's innate problem-solving instincts sets the Kolbe System apart, and it meets the standards of the American Psychological Association for validity and reliability as well as race, gender and age neutrality.
"Do the least amount of work to make the biggest change in the shortest time."
To learn more about how George can help you, your business or organization –Contact George today.